Welcome to Nutrition Services!
"In Pierce County we know that good nutrition and learning go hand in hand."
The School Nutrition department is made up of a team of food and nutrition professionals that is dedicated to students' health, well being and their ability to learn. We support learning by promoting healthy eating habits for lifelong nutrition and fitness practices.


If you would like to join Pierce County's Wellness Team, please contact Rhonda Cooper at 912-449-2044.
The system wellness team evaluates and recommends policy changes and updates to the Wellness Policy. To view the 2016/2017 Wellness Committee Policy Summary please click on the Wellness Tab above.
PIERCE COUNTY HIGH and PIERCE COUNTY MIDDLE SCHOOLS OFFER NEW FREE BREAKFAST BAR!!
Check out the many individually packaged food items that are quick to grab and eat. Ex: Cereal bars, maple flavored pancakes in a bag, donut power balls, and other quick and good breakfast items.
YUMMABLES
The meal that offers students a full meal with crisp, fresh fruit and vegetables, crackers or chips, yogurt, cheese and/or deli meats.

________________________________________


__________________________________________________________________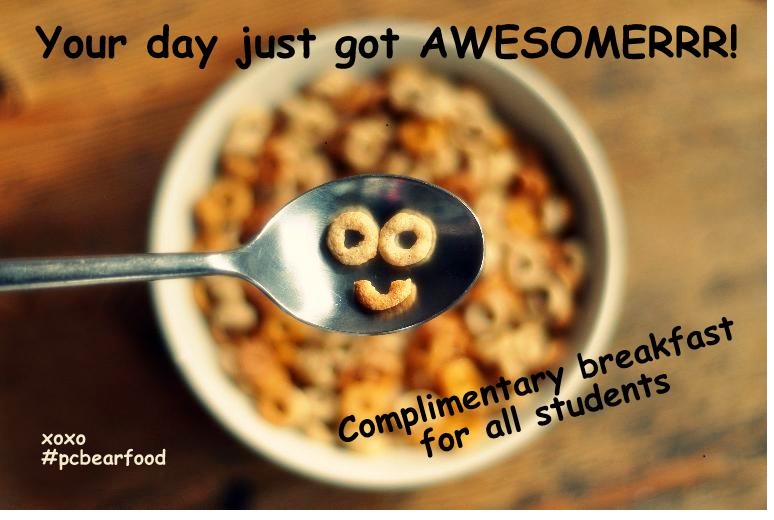 That's right! Everyone gets complimentary breakfasts all year at all schools.


Next time you look us up, use the direct web address.

Check your child's school meal balance or make payments online
at K12 Payment Center... click button below:


Make prepayments to your child's meal account
and look up transaction history and balance- online any time at
K12PaymentCenter!

Meals, foods and beverages served at school cafeterias meet state and federal requirements which are based on the USDA Dietary Guidelines. We provide students with access to a variety of affordable and appealing foods that meet the health and nutrition needs of students.