Welcome to Nutrition Services!
"In Pierce County we know that good nutrition and learning go hand in hand."
The School Nutrition department is made up of a team of food and nutrition professionals that is dedicated to students' health, well being and their ability to learn. We support learning by promoting healthy eating habits for lifelong nutrition and fitness practices.


Our School Nutrition Department Team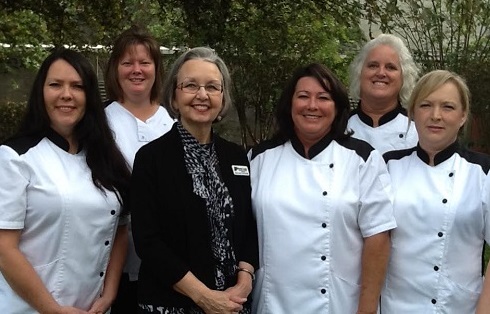 Shown left to right, are: Dana Daniels- Pierce County High Manager, Teresa Lane- Pierce County Middle Manager, Rhonda Cooper- Nutrition Director, Jackie Wingate- Midway Elementary Manager, Beverly Bagley- Blackshear Elementary Manager, Lisa Lee- Patterson Elementary Manager.
National School Nutrition Employee of Year!

We are proud to announce that one of our own beloved School Nutrition employees, Ann Roberson, will be traveling to Salt Lake City, Utah, during the Annual National Conference for School Nutrition Professionals to receive the NATIONAL employee of the year! Ann was selected among all School Nutrition Employees in the country for this outstanding award. Congratulations Ann!!
Southeast Region Director of the Year!

We are equally proud to announce that our Rhonda Cooper, the Culinary Director of the Pierce County Schools Nutrition Program will also be honored at ANC in Salt Lake City for being the Southeast Region Director of the Year! Great things are coming out of Pierce County Schools because it is a great School Nutrition program. Hats off!
| | |
| --- | --- |
| | The Georgia School Nutrition State Media Award was given to Yvonne Russell, and was presented by the GSNA state president Vanessa Hayes and Dawn Lewis Awards Chair. |
If you would like to join Pierce County's Wellness Team, please contact Rhonda Cooper at 912-449-2044.
The system wellness team evaluates and recommends policy changes and updates to the Wellness Policy.
GRAB and GO LUNCH BAGS
This is an easy and quick meal to eat! Students can eat cereal at lunch or yogurt, a cheese stick, and even an uncrustable PBJ. Every meal offers fruit and vegetable servings and milk choices.
PIERCE COUNTY HIGH and PIERCE COUNTY MIDDLE SCHOOLS OFFER NEW FREE BREAKFAST BAR!!
Check out the many individually packaged food items that are quick to grab and eat. Ex: Cereal bars, maple flavored pancakes in a bag, donut power balls, and other quick and good breakfast items.
YUMMABLES
The meal that offers students a full meal with crisp, fresh fruit and vegetables, crackers or chips, yogurt, cheese and/or deli meats.

__________________________________________


Pierce County Middle School's Award winning Tailgate Celebration of National School Lunch Week!
Slideshow_of_tailgate
__________________________________________________________________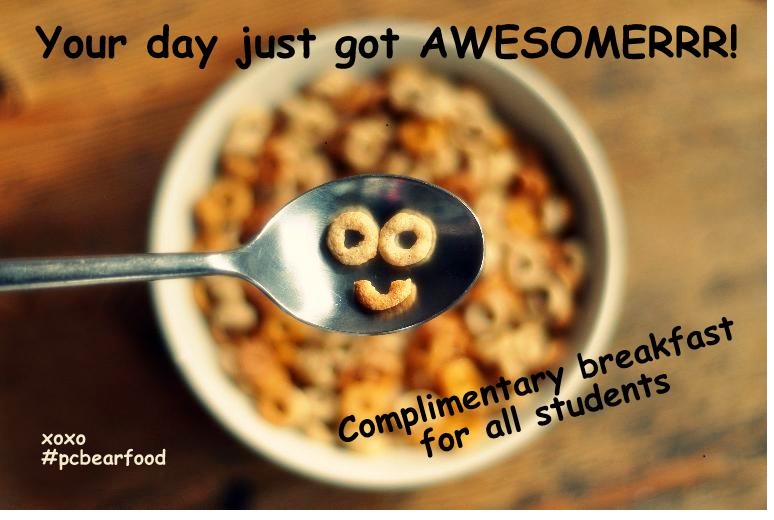 That's right! Everyone gets complimentary breakfasts all year at all schools.


Next time you look us up, use the direct web address.

Check your child's school meal balance online (button on right, below)
or
Make a payment to your child's school meal account (button on left, below)



Make prepayments to your child's meal account online any time at
K12PaymentCenter!

Meals, foods and beverages served at school cafeterias meet state and federal requirements which are based on the USDA Dietary Guidelines. We provide students with access to a variety of affordable and appealing foods that meet the health and nutrition needs of students.